We had some wonderful spotty and stripy creations last fortnight!
Thank you for playing along with us at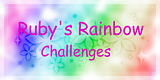 Now, we have a brand new challenge for you
TEXTURE
For this challenge we want to see all different items on your creations this could be feathers, buttons, embossing, corrugated card, anything you like to give your creation texture.
Don't forget you can make anything you like as we are a multi crafts challenge so long as you keep to the theme, that could be Cards, Scrapping, Tags, Fat pages, Atcs, Knitting etc.
All material except the white flower comes from my local scrap shop called Scrapbutiken.
The image is from Scribbles Design and you can buy it here. I have coloured it with my ProMarkers.
embossing folder to make spots on the die cut corners.
Please pop over to Ruby´s Rainbow and see what my talented team mates created!
I would like to enter these challenges:
To be up dated soon!